Ophelia turned 7 months old the other day which happened to coincide with us being donated lots more toys, so I thought it was time I updated the kinds of things she is now interested in toys wise:
Walker:
This is a very recent new favourite but boy is she enthusiastic about it. Just this afternoon she spent a while playing with it with one of our friends. It works on so many levels to hold her interest and I can see this keeping her entertained through a few stages of her development. Today she has had several different types of play with it; the obvious one to begin with is playing with the bits on the front- this in itself keeps her entertained for a while. The front on ours comes off which is really useful because if she gets bored or tired reaching for the highest toys, it's nice to put it on the floor or on a chair for her to reach to. She also likes trying to reach the highest toys on the front by pulling herself up on the bar and reaching over the front. Her little face as she kept looking back at our friend; beaming from ear to ear and laughing, it really was lovely to see. I personally think there is no point getting them one of these much before this age.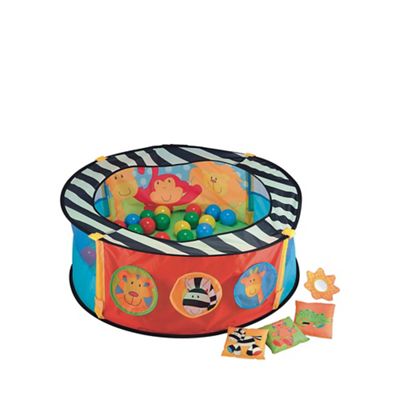 Ball pit:
Our nursery has a soft ball play room which each age class of child gets to go in every day. YES you heard that right-every day she gets to mess around in a big ball pit. I saw realised we needed to
turn our house into one big ball pit
rectify our lack of ball pit immediately. So we now have one! Even better is the fact that the cat loves it too-two birds, one stone; double win! She again gets SO excited when we put her in there; her favourite things are kicking balls or when I play peekaboo through the cabin holes in the sides!
Anything she can shake
: Some of the toys we were given make varying types of shaking noises and she loves them! She watches as you shake it then grins and reaches for it to shake herself. At nursery they have lots of shaker bottles like the ones above and when we went for one of her settling in days, she stole one off another child and then wasn't keen to give it back-oops!
Mermaid Lamaze toy:
She has had lamaze toys in the past and liked them, but at this age she seems to really like this one and the doll one. On Thursday my Mum played with the doll by making it move and Ophelia was in full blown hysterics for about half an hour-this is when she had been in hospital the previous day so she must REALLY like them. What I really love about the mermaid is that numerous parts of her appeal to the baby- her hair is great to fiddle with and put in her mouth, the doll like features make it perfect to play with, the seahorse and tail make great teething accessories plus the tail doubles as a mirror (say no more!).
Kid's stacking rings:
Her favourite thing is to simply turn it upside now and drop them all onto the floor from a great height then gauge my reaction. Oh, not forgetting her game of "what's the biggest size ring I can fit in my mouth", which brings her such joy when she tries.
Developmental advantages: Helps; them recognise shapes, colours, logic skills.
Crawl and learn ball:
She can't help but try to grab it as it rolls away!